Are you looking to boost your milk supply? I want to share some of the best tasting supply boosting recipes that I have found, tried, and loved!
The magic of breastfeeding
My favorite part of breastfeeding is that you can basically eat whatever you want! Of course, you should practice good eating habits, especially if your goal is to lost weight after pregnancy; but ultimately these goodies are doing more good than harm!
The biggest problem I faced after having a baby was the lack of time, energy, and knowledge of what to eat for breakfast, snack, lunch, and snack. (They tell you to eat 6 meals a day so that's what I was basing myself off of – don't judge me!) These recipes were super easy to make and some of them you only have to make once to have enough for a week or two!
With these best tasting supply boosting recipes, you have the potential to produce nearly double your current supply. A handy breastfeeding tip and must-have for my motherhood journey has been a $13 piece of silicone called a hakkaa! Click here to check it out; this was by far the best and most useful thing I ever bought after having a baby and it fits into your diaper bag easier than most breastpumps (unless you have the Medela Freestyle like I do and I HIGHLY recommend it!)
Let's get to those recipes so you can start producing, if you are interested in learning more about a recipe, click on the links provided and it will take you to their website. There you can ask questions and gain additional knowledge from the source themselves!
Supply boosting basics
When I first started breastfeeding, I had a great supply – I would hope so, I had been lactating since the 4th month of pregnancy!
After the baby was born, she was a month preemie and had a hard time latching. My supply plummeted for a month while she and I figured out what we were doing. As a first-time mom (FTM), the fact that I was no longer leaking through 3 bras and 5 shirts a day was freaking me out and I went on a maniacal hunt for the best supply boosting recipes I could find.
I started out by making the recipes that contained only ingredients that were already in my kitchen because I didn't want to buy ingredients I would only use once (keep reading to know what I mean). I didn't see any results and they all tasted pretty crummy.
Finally, I decided to splurge and try some other recipes that contained a few odd ingredients and they worked! While the recipes didn't taste good, I was seeing results. So, my hunt switched courses from recipes to boost my supply to recipes that actually tasted good as long as they used the key ingredients!
The key ingredients
After trying recipe after recipe, I started to pick up on which ones would taste good and which ones wouldn't. The key to a good supply boosting recipe that will work is if it contains any or all of the following ingredients:
Oatmeal (which also works as a simple fix by itself!)
Brewer's yeast – again, this one was a great deal and specified "boosting breastmilk production" so I knew it was the right thing.
Coconut Milk – you are going to love all of these recipes with this one. Coconut milk is a key ingredient because it is super hydrating, so I bought this one because I basically replaced the entirety of my liquid consumption with this!
If you find a lactation recipe that contains these ingredients then I'm almost positive it will have all the nutritional benefits needed to hopefully boost your supply. I have done a lot of the work for you and I am a huge fan of thinking smarter not harder, so here is what I've come up with!
11 Best Tasting Supply Boosting Recipes:
Lactation Brownies – Made Easy!
Rebecca over at Sugar and Soul posted a recipe that was my very first experience with tasty supply boosting recipes with her Lactation Brownies!
Rebecca says,
"These lactation brownies are super easy to make and they are often referred to as emergency lactation brownies because they're made from a box brownie mix."
They are so delicious that when I made them, I also made a non-spruced up batch of brownies for my husband and he preferred these ones! (The answer is no…. I know you thought it. In the wise words of my husband "will these make me milk?" The answer is no, but you might want to say yes just to keep them for yourself!)
Double Chocolate Lactation Brownies
Amanda at Exclusive Pumping is a certified lactation counselor and has the best super chocolatey lactation brownies you will find with her Double Chocolate Lactation Brownies!
In her post, she talks about her own personal opinions on whether or not supply boosting recipes work and I love what she said!
"It's not an earth-shattering change, but it's a nice boost, and eating lactation brownies is way more fun that drinking tea or eating oatmeal!"

Amanda talking about lactation recipes in general
Lactation Cookies
Rebecca over at Sugar and Soul provided yet another tasty recipe! After trying her lactation brownies, she suggested trying her lactation cookies and I did it!
I absolutely love how easy she makes her recipes and she even gives her tips and tricks that help with her own supply. My favorite thing about her cookie recipe is that she can freeze the dough and cook them later!
Rebecca says,
"I keep the dough frozen and pull a couple of cookies out to bake when I've had a clogged duct or notice a small drop in my supply to help me recover and maintain."
Vegan and Gluten Free Lactation Cookies
Over at the Ambitious Kitchen, Monique shares the most in depth recipe for The Best Lactation Cookies (for nursing mamas!) She gives you options on how to change up some of the ingredients, how to make a vegan and gluten free solution for your supply boosting needs, how to store them and more!
Monique says,
One of the best parts about these lactation cookies is that they are easily customizable.
Which is very true and she tells you how to do it!
Pumpkin Chocolate Chip Lactation Muffins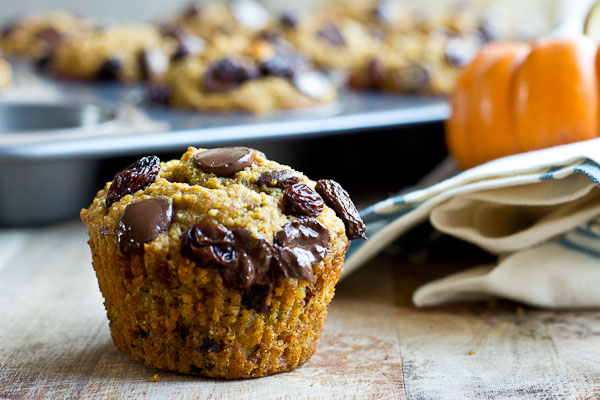 Kristina over at Love and Zest shares a fun and festive take on supply boosting with her recipe "Pump up Your Milk" Pumpkin Chocolate Chip Muffins.
My little one was born at the beginning of November so all of the feelings for the Fall season were in full tilt! I am not particularly keen on pumpkin flavor but Kristina created a recipe that kills!
Kristina shares,
"While eating when hungry and drinking when thirsty are the two most important factors to producing enough breastmilk, incorporating oats, flaxseed and brewer's yeast in the diet may also help boost supply."
Banana Chip Lactation Muffins
I am a sucker for banana nut muffins and loaves (bananut bread as my husband likes to say – patent pending, just kidding but if you patent this word, please give him credit because he would be ecstatic… but I digress).
Ashleigh over at Dash of Evans shares a delicious recipe for Super Easy Banana Chip Lactation Muffins! This recipe was amazing the very first time I made it, but like I said, bananut is my jam so I excluded the chocolate chips the second time I made them.
Ashleigh speaks the truth when she says,
I remember when I was nursing, I wanted to eat ALL OF THE TIME. Lactation muffins are a healthy way to get some vitamins and help with the milk production.
Pumpkin Spice Lactation Muffins
Elizabeth at Love Our Littles was not wrong when she posted about her Irresistible Pumpkin Spice Lactation Muffins! Like I already said, my baby was born in early November and swoon over Fall! These pumpkin spice muffins were amazing and showed great results!
Elizabeth shares my secrets when she says,
"[A]nyone can enjoy them for their bountiful nutritional value!"

Elizabeth talking about who her recipe was created for
Shhh, don't tell my husband this!
No-bake bites
Maegan at the Bakermama has a delicious and simple recipe for No-bake Lactation Bites. The first time I made these I fell in love! I had tried a few other no-bake recipes before this one and couldn't quite finish the batches I made so I covered them in chocolate and surprised my husband with an after-work snack!
Once I found this recipe my wife of the year award vanished – Haha. I hoarded these for myself and you will want to too.
Maegan won me over with one last attempt at no-bake bites when she said,
"these no-bake lactation bites [are] so easy to make and can be ready to eat in 10 minutes or less."
I am so glad I tried them and I couldn't believe the supply boost I experienced. In her post she also shares her interesting experience with producing skim milk – who knew?!
Blueberry Smoothie
Elizabeth at Love Our Littles shares another supply boosting recipe that won my heart. Her Blueberry Lactation Smoothie is one of my favorites to take for breakfast while I walk or simply enjoy from the couch while breastfeeding.
Elizabeth tells us that
"you CAN nourish your body with the right foods and get more fit all while protecting your milk supply!"
Chocolate, Peanut Butter, and Banana Smoothie
Oceana shares her recipe for her Chocolate Banana Boobie Smoothie on Stay at Home Mum. This recipe uses all of my favorite smoothie ingredients so it was a must-try and now it's an absolute favorite! This blog is based out of Australia so some of her store suggestions are a bit foreign for the States. Don't forget that I linked to some necessary ingredients at the beginning of this post.
Strawberry Banana Smoothie
Again, Amanda at Exclusive Pumping shared a sure-fire and absolutely amazing recipe for a supply boosting Strawberry Banana Lactation Smoothie.
You might be thinking how is a simple strawberry banana smoothie "absolutely amazing", Sara? Well, let me just tell you from experience that supply boosting ingredients don't always taste great – depending on how you dress it!
Amanda shares that
"this smoothie is another delicious way that has the same amount of oatmeal as that microwaved mess I used to eat. It also has brewer's yeast and flax seed as a bonus!"
To find out what she is talking about, head to her blog! Also, notice that she mentions 3 of the ingredients I listed at the beginning of this post!
What now?
I hope you saw a recipe that piqued your interest and boosted your supply just thinking about them! Maybe you got inspired to create a supply boosting recipe of your own! Maybe you will use my Copycat Panera Bread Kitchen Sink Cookies to create a supply boosting recipe from that – HA! If you do, please share!
Don't forget, if you are interested in learning more about a recipe, click on the links provided and it will take you to the owner of the recipe's website. There you can ask questions and gain additional knowledge from the source themselves!
What did you think?
Did anything look super tasty? Have you tried any of these – what did you think of them? Let me know in the comments! Feel free to ask me any questions about them and I will do my best to get you the answer or direct you to the right place for your question!